Thank you for signing up to pray during our 24 Hours of Prayer, we are delighted that you'll be joining us from home while others will be meeting physically at Sandon Rd Baptist Church for the first time!
You will be working through the same prayer stations that are set up at Sandon Rd right now, these are based on the Lord's prayer.  Together we want to join our prayers as one as we lift up our friends, families and neighbours to God.  We want to lift up our nation and its leaders and pray for God's kingdom to come and his will to be done in our lives and in our world. 

This page is a resource you can use to help guide your time of prayer.  You will find music you can play during your prayer time, guided prayer points, and some interactive spaces.  We hope you'll be able to make use of this to encourage your time of prayer.
Worship Music
If you find it helpful this instrumental music is 2 hours long so can be used during your time of prayer.
---

Read these verses and reflect on your Heavenly Father
Isaiah 63v15-16  Look down from Heaven and see, from your lofty throne, holy and glorious. Where are your zeal and your might? Your tenderness and compassion are withheld from us. But you are our Father though Abraham does not know us or Israel acknowledge us. You Lord are our Father, our redeemer from of old is your name.
Isaiah 64 v8 Yet you, Lord, are our Father. We are the clay, you are the potter, we are all the work of your hand.
Psalm 103v19 The Lord has established his throne in heaven and his Kingdom rules over all
1 John 3v1 See what great love the Father has lavished on us, that we should be called children of God! And that is what we are!
What is your biggest fear right now?
How can the image of Almighty God, being your Father, a Father who reigns and sits on the throne in the heavenly realms ruling over all – how can this image help you face it?
Not 'my' Father, but 'our' Father
He is not my Father but OUR Father (Matt 6 v9b)
Look at the image of the cross below where the vertical part of the cross represents our relationship with God and the horizontal our relationship with our earthly family.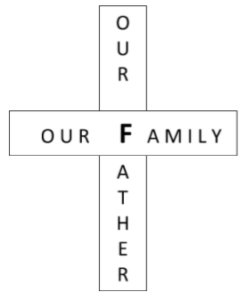 Pray for our 'earthly family'
Pray for our brothers and sisters around the globe
Pray for God's will and unity within our church family
Pray for any difficult relationship(s) you are experiencing
Think of two people in our church family who really need prayer and pray for them
Pray that Jesus will shine in us and through us and our family will grow through others coming to know Jesus as their King
---

Hallowed = made holy, consecrated / greatly revered and honoured
1 Peter 1v15 But just as he who called you is holy, so be holy in all you do: for it is written 'Be holy, because I am holy' – read Leviticus 11 v44-45
In prayer:
ask God to guide you and teach you how to be more holy
ask God to show you how to bring honour to God's name in your everyday life
ask God to teach you what to do when someone dishonours His name
Honour and praise the Lord our God:
Slowly read Psalm 150 & reflect with each line how great our God is….
Praise the Lord
Praise God in his sanctuary
Praise him in his mighty heavens
Praise him for his acts of power
Praise him for his surpassing greatness
Praise him with the sounding of the trumpet
Praise him with the harp and lyre
Praise him with tambourine and dancing
Praise him with the strings and pipe
Praise him with the clash of cymbals
Praise him with resounding cymbals
LET EVERYTHING THAT HAS BREATH PRAISE THE LORD
Praise the Lord
Spend some time praising the Lord and honouring His holy name
List 10 things in your own notes that you would like to praise the Lord for today!
Those meeting physically will be writing one of these things on a tag and hang it on the tree. Why not also choose one, but add it to the prayer wall below.
Prayer Wall
---

'This clause of the Lord's Prayer goes to the heart of God's intentions and actions in his world. The idea of God as King, God's Kingdom and the need for God's people to be loyal citizens under God's kingship are themes that are close to the heart of the Bible and are either directly or indirectly referred to on every one of its pages.' (J John 2020)
We currently live in the United Kingdom with the Queen as head of state – do we know what God's Kingdom will look like?
In Matthew, Jesus tells us several parables that begin with '…the Kingdom of Heaven is like…'
Matt 13 v24, v31, v33, v44, v45, v47 Matt 25 v1, v14
All the parables in this chapter tell us about God and His Kingdom, this is not a physical place but a spiritual one where God is King and where we can have eternal life.
Read Matt 7 v24-27 The wise and foolish builders
If our lives are going to be useful to the King, it needs to be well founded
Reflect and think about your own foundations – Spend a few minutes asking God to help you build on good foundations
Read Matt 25 v14-30 The parable of the bags of gold
If our lives are going to be useful to the King we need to use the gifts He has given us
Reflect and think about the gifts God has given you – spend a few minutes asking God to reveal your gifts to you and how to use them more for His Kingdom.
Where in your life do you want to see God's Kingdom come?
In your home?
In your work place?
In your community?
Ask God to give you a greater desire to see His Kingdom come in all areas of your life.
---

"For we are God's workmanship, created in Christ Jesus to do good works, which God prepared in advance for us to do" Ephesians 2 v 10
What do we need to ask from God to be able to walk in His purpose for us?
We pray for each other …..
For our church leaders and church family as we wrestle with finding God's way forward at this time
For those in authority and power in our town and nation
For family and friends who don't know Jesus
For our brothers and sisters who are struggling with illness and wellbeing
For those struggling with faith
For those suffering persecution
For those around the world suffering the effects of war, poverty, injustice, deprivation and the devastation of coronavirus
Those meeting physically will be putting their prayers on a prayer wall. Why not do the same, but using the online prayer wall below.
Prayer Wall
---
Palms Up, Palms Down
"Cast your cares on the Lord and he will sustain you" Psalm 55:22
"Cast all your anxiety on him because he cares for you" 1 Peter 5 v 7
Palms Down 
Sit in a comfortable position, not rigid but not slouched either, and invite the presence of God. Begin by placing your hands, palms facing down, on your legs. This 'palms down' posture is a symbolic indication that you want to 'hand over' your requests to God.
As you sit before the Lord, begin to name any worries or anxieties you may have. Don't pray what you think God wants to hear, pray what is inside you. Whatever is weighing on your heart or on your mind, name it in prayer before God and imagine yourself releasing it on to God. You may even want to picture the hands of your Heavenly Father under your hands, receiving those things you are handing over to Him. 
As you engage with the presence of God notice any sensation in your body or spirit – perhaps a sense of relief or release – as you surrender to His love and care. 
Palms Up
After a number of minutes in silence, turn your hands around, palms facing up, the backs of your hands gently resting on your legs. 
As you do, begin to ask Jesus for His peace, His courage, His presence, His love or His direct action, in place of the worry, concern, anticipation or request that you had released to the Lord only moments before this. 
In the quiet, rest in this divine exchange, receiving fresh peace, presence and power in place of the natural concerns and requests. Be open to receive a particular promise from scripture, a sense of direction or an impression in your imagination concerning some of these requests. 
Rest 
Finally, remain a few more moments without asking for anything. Simply rest in His love, and as you have handed your petitions to God remember He has still got the whole world in His hands. Believe that God is loving you in these moments and allow His presence to be more than enough. 
Extract from: theprayercourse.org/toolshed/ as inspired by Richard Foster's book "Celebration of Discipline"
---
A Prayer For The Holy Spirit
" Which of you fathers, if your son asks for a fish, will give him a snake instead? Or if he asks for an egg, will give him a scorpion? If you then, though you are evil, know how to give good gifts to your children, how much more will your Father in heaven give the Holy Spirit to those who ask him!" Luke 11 v 11 – 13
Are we scared to ask God for his Holy Spirit?
Are we scared that nothing will happen?
Are we scared that something WILL happen …. That the Holy Spirit will fill us and our lives will be turned upside down?
Jesus emphasises God's love and goodness towards us so we can be assured / confident to ask.
A prayer asking God for his Holy Spirit …….
Heavenly Father,
Thank you for your love.
Please today give me the gift of your Holy Spirit.
Make me willing to receive him fully.
Amen
---
Reflect on the poem below
The Difference 
I got up early one morning and rushed right into the day;
I had so much to accomplish that I didn't have time to pray.
Problems just tumbled about me, and heavier came each task.
"Why doesn't God help me? I wondered.
He answered, "You didn't ask."
I wanted to see joy and beauty, but the day toiled on grey and bleak.
I wondered why God didn't show me;
He said, "But you didn't seek."
I tried to come into God's presence; I used all my keys at the lock.
God gently and lovingly childed, "My child, you didn't knock."
I woke up early this morning, and paused before entering the day.
I had so much to accomplish, I had to take time to pray.
By Alan Grant
---

Forgiveness Prayer
"Search me, O God, and know my heart; test me and know my anxious thoughts. See if there is any offensive way in me, and lead me in the way everlasting." Psalm 139:23-24
Reflect on and pray the words of this psalm. Allow the Lord to show you any sins that you need to confess to Him and turn away from.
"God made him who had no sin to be sin for us, so that in him we might become the righteousness of God" 2 Corinthians 5:21
Having been shown such incredible mercy, we are to show mercy to others.
Write down anything God reveals.
Ask Him for forgiveness. Things in your own life that need forgiveness or things that others have done that you are struggling to forgive and let go.
Those in the prayer room will be writing their prayers for forgiveness on dissolving paper then placing the dissolving paper in a bowl of water as a symbol of God's grace and forgiveness and to claim Jesus help to forgive and let go of resentments towards others. At home why not tear up the paper you have written on as a sign of God's forgiveness.
---
Forgiveness Prayer
Those in the physical prayer room will be picking up a piece of red wool symbolizing their sin and laying it on the cross.  Then taking a piece of white wool from the cross as a symbol of receiving the Lord's forgiveness and his words, "Your sins are forgiven"  
Visualise this act of laying your sins at the cross and receiving God's forgiveness for yourself at home.
Having been forgiven, ask the Lord to show you anyone you need to forgive. 
Choose to forgive them using the following prayer.
Forgiveness Prayer
Lord I choose to forgive…..(name the person) 
For…..(what they did or failed to do) 
Which made me feel…..(tell the Lord every hurt and pain He brings to Your mind) 
I hand over this person to You, believing that you paid for their sin as well as mine when you died on the cross. 
I choose not to hold on to my resentment any longer. 
I ask you to bless…..(name the person) 
Please come and heal my damaged emotions. 
In Jesus' name.
---

Matthew 4 v 1 – 11
"Then Jesus was led by the Spirit into the wilderness to be tempted by the devil. After fasting for forty days and forty nights, he was hungry. The tempter came to him and said, 'If you are the Son of God, tell these stones to become bread.'
Jesus answered, 'It is written:"Man shall not live on bread alone, but on every word that comes from the mouth of God."'
Then the devil took him to the holy city and set him on the highest point of the temple. 'If you are the Son of God,' he said, 'throw yourself down. For it is written: '"He will command his angels concerning you, and they will lift you up in their hands, so that you will not strike your foot against a stone."'
Jesus answered him, 'It is also written: "Do not put the Lord your God to the test."'
Again the devil took him to a very high mountain and showed him all the kingdoms of the world and their splendour. 'All this I will give you,' he said, 'if you will bow down and worship me.'
Jesus said to him, 'Away from me Satan! For it is written: "Worship the Lord your God, and serve him only."
Then the devil left him, and angels came and attended him."
---
Read Matthew 4:1-11 and reflect on the temptations faced by Jesus and how he responded.
"For we do not have a high priest who is unable to feel sympathy for our weaknesses, but we have one who has been tempted in every way just as we are – yet he did not sin." Hebrews 4:15
"Because he himself suffered when he was tempted, he is able to help those who are being tempted." Hebrews 2:18
Ask the Lord to show you what temptation you find hard to resist. As He shows you, ask him to help you keep your eyes upon Him and away from the temptation.
Jesus used scripture, the Word of God, to respond to temptation. If you would like to, take a stone and either now or at home write a bible verse that will help and remind you in battling temptation.
"Finally, brothers and sisters, whatever is true, whatever is noble, whatever is right, whatever is pure, whatever is lovely, whatever is admirable – if anything is excellent or praiseworthy – think about such things." Phillipians 4:18
---

"Be alert and of sober mind. Your enemy the devil prowls around like a roaring lion looking for someone to devour."  1 Peter 5:8
"Armour of God" Prayer
Based on Ephesians 6:10-18
Father God 
I put on the belt of truth around my waist. Help me to listen to and act on your truth alone, and not be deceived by the devil's lies. 
I put on the breastplate of righteousness. Thank you that because of the cross I can be righteous in your sight. Help me live my life in a way that honours you. 
I put on the shoes of the gospel of peace. Lord, I am willing to go anywhere you ask and do anything you ask of me. 
I stand behind the shield of faith, secure in the knowledge of your goodness, love and power. 
I place the helmet of salvation on my head. Thank you that all the riches of heaven are mine in Jesus.
I take up the sword of the Spirit. Bring your word to my mind as I need it for the glory of your name. 
Amen.
---
Final Thoughts
Please write any final prayers or thoughts on the last prayer wall below.