Thank you for signing up to pray during our 24 Hours of Prayer. Though we cannot be physically together we want to join our prayers as one as we lift up our friends, families and neighbours to God. We want to lift up our nation and its leaders and pray for God's kingdom to come and his will to be done in our lives and in our world.

This page is a resource you can use to help guide your time of prayer. You will find music you can play during your prayer time, guided prayer points, and some interactive spaces to offer prayers that we can all join together in praying. We hope you'll be able to make use of this to encourage your time of prayer.

If you are praying overnight you can join Ali who will be praying through the night from 9pm to 6am via Zoom – https://us02web.zoom.us/j/84507481396. Ali would be delighted for you to join her for all or any of your hour of prayer during that time.
Worship Music
If you find it helpful this instrumental music is 2 hours long so can be used during your time of prayer. Other worship resources are also provided throughout this time of prayer.
---

We are emerging from 'Lockdown'. As we do emerge let us pause and remind ourselves of our Identity and of our Purpose both as individuals and as a church body.
Let us take a breath!
Let us take a knee!
Let us 'ground' ourselves in our Identity in Christ!
What does that look like for you at the moment?
Let us explore and reaffirm our Purpose!
What does that look like for you at the moment, both individually and collectively?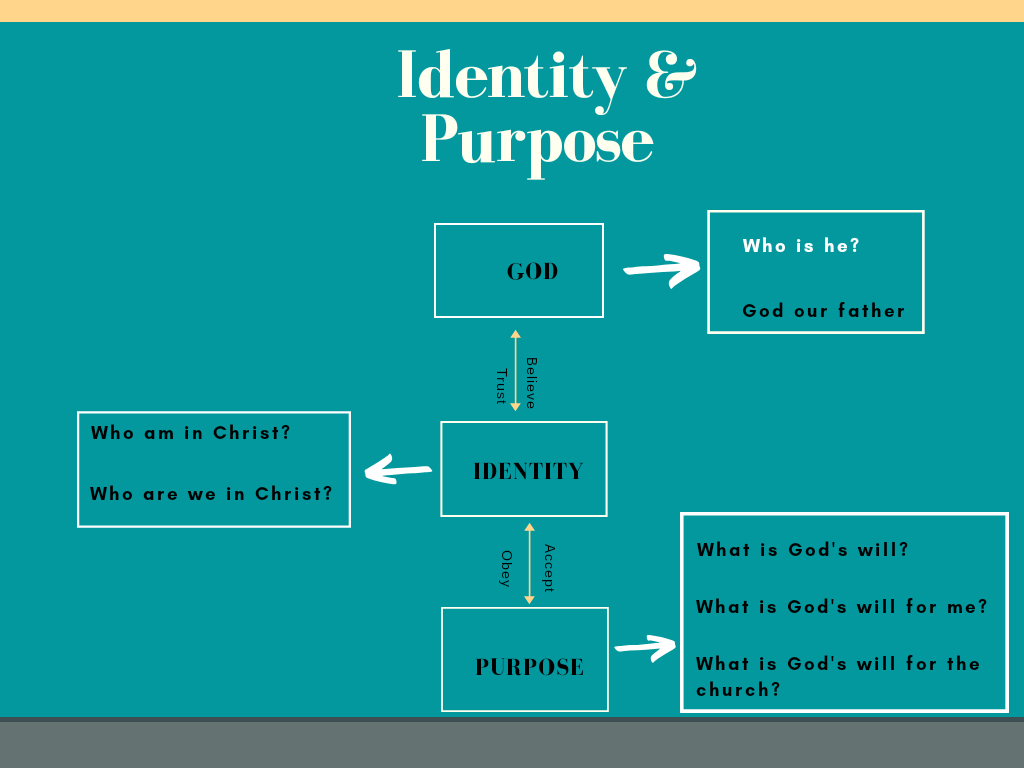 When praying, let's start with remembering who God is.
Father is a word that has many meanings to different people. To some it is a loving caring person that helped raise them, protecting and affirming them. To others 'father' is a word that only brings pain and suffering with memories that are too haunting to recall.
As we all have differing images of the term 'father' it is a good thing to try and see 'God our Father' in a context. A Biblical context. In the context that God intended us to see it and experience it. As you read through these thank God for who he is.
Genesis 1:27 He created us in His image. He created us equal. Neither male or female exalted, nor depreciated from one another.
Genesis 2:7 We were empty shells of dust until God our Father breathed life into us.
Psalms 103:13 We are His children and He has compassion on us.
Proverbs 3:11-12 As He corrects and approves us He also delights in us. As a loving parent would.
Luke 11:2 Jesus teaches us to pray to God "Our Father…"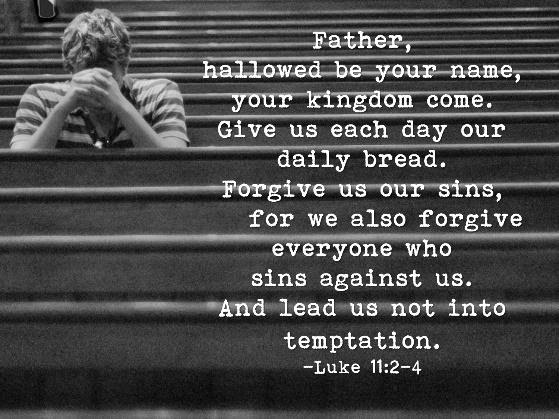 Click on the link below for a selective playlist of worship songs to come into God's presence :

At the heart of what it means to be a Christian is to receive a new identity. In Jesus, we do not lose our true selves, but we become our true selves, only in him.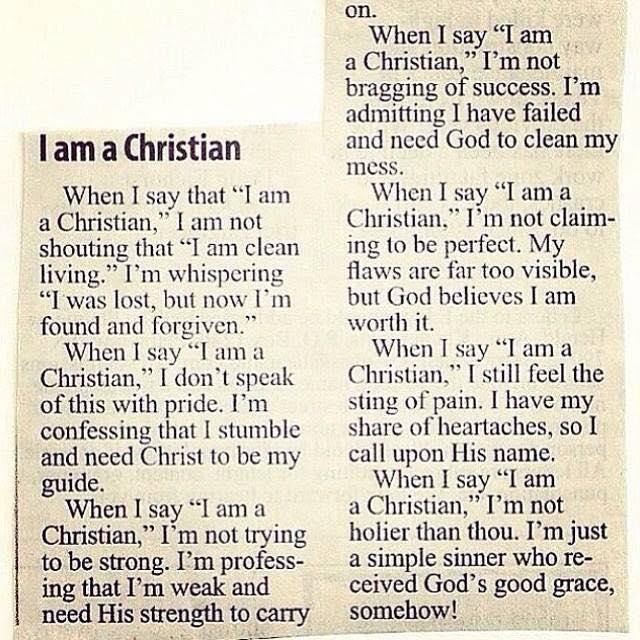 The world will try to tell us that we are something else through our mistakes or shortfalls. This is why it's important to know who God says we are.

"Blessed be the God and Father of our Lord Jesus Christ, who has blessed us with every spiritual blessing in the heavenly places in Christ, just as He chose us in Him before the foundation of the world, that we would be holy and blameless before Him. In love He predestined us to adoption as sons through Jesus Christ to Himself, according to the kind intention of His will, to the praise of the glory of His grace, which He freely bestowed on us in the Beloved. In Him we have redemption through His blood, the forgiveness of our trespasses, according to the riches of His grace which He lavished on us. In all wisdom and insight." Ephesians 1:3-8
Select some of the following verses to discover more of your identity in Christ, praying over those you feel led to:
I am a friend of Christ's: John 15:15
I am Justified and righteous: Romans 5:1
I am secure in his hand: John 10:28
I am free from condemnation: Romans 8:1
Click on the link below for a selective playlist of songs describing our identity as Christians :
Let us pray :
Pray for us to understand better our identity in Christ, in the Church and in the world, and how it shapes our lives. What areas of your identity in Christ do you need to celebrate with prayers of thanksgiving? What areas do you need to ask for God to help you see your identity more clearly?
Pray for the Church's identity in our world, so that it may shape our society (2 Corinthians 5:18-21). Pray for Beacon Church, for the Church in the UK and in the world.
Pray for our friends and family to find their identity in Christ. You can write their names on the prayer wall below.

Purpose as defined by Cambridge dictionary is "the reason for doing something or the reason that something exists; determination or a feeling of having a reason for what you do; a need of a particular person or organization".
"Purpose is the original intent in the mind of the Creator that motivated Him to create a particular item. It is the why that explains the reason"
And for us, we are called to Trust and Obey Jesus in these times and seasons. The Kingdom of God and church can only grow when we trust and obey. Kingdom opportunities are everywhere but we can only see it when we trust and obey.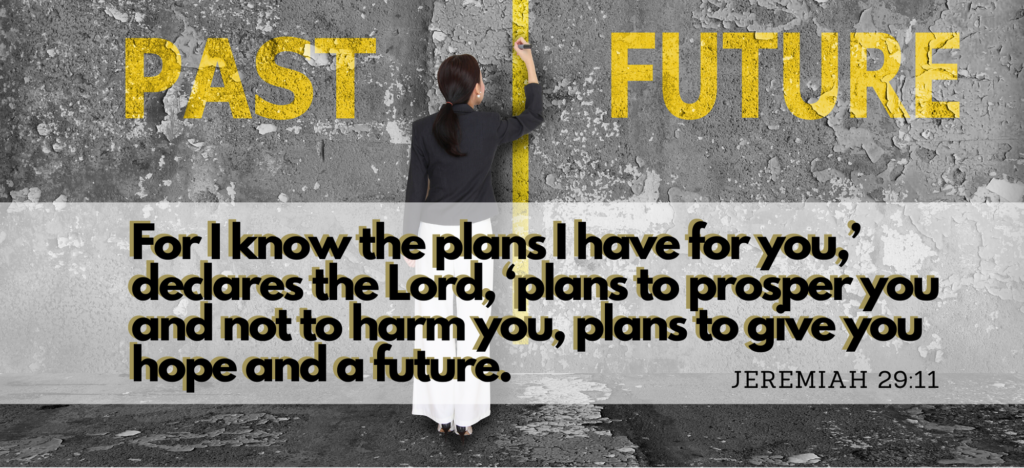 "For in him all things were created: things in heaven and on earth, visible and invisible, whether thrones or powers or rulers or authorities; all things have been created through him and for him." Colossians 1:16
Find below further readings to 'ground' our purpose in the Word of God. Read and pray through these as you feel led.
Job 42:2 "… no purpose of yours can be thwarted"
Isaiah 46:10-11: God promises : "… what I have said, I will bring about; what I have planned, that I will do."
Proverbs 19:21: Many are the plans in a person's heart, but it is the LORD's purpose that prevails. (and Psalms 33:11)
1 Peter 2:9 chosen people, royal priesthood
2 Timothy 1:9 Not because of us, but because of him (his own purpose and grace)
Romans 8:28 for the good of those who … have been called according to his purpose
Jeremiah 32:19 God's purposes are for all mankind
"Therefore go and make disciples of all nations, baptizing them in the name of the Father and of the Son and of the Holy Spirit, and teaching them to obey everything I have commanded you. And surely I am with you always, to the very end of the age." Matthew 28:19-20
Click below to listen to a playlist around God's purpose for us and reflect on what God may be saying to you:
Let us pray about our purpose
Our life's purpose is to tell others about Jesus/God.
How are you going to do this? What is God telling you your next step is?
How do we fulfil God's purposes as a church?
Use these prayers to guide your own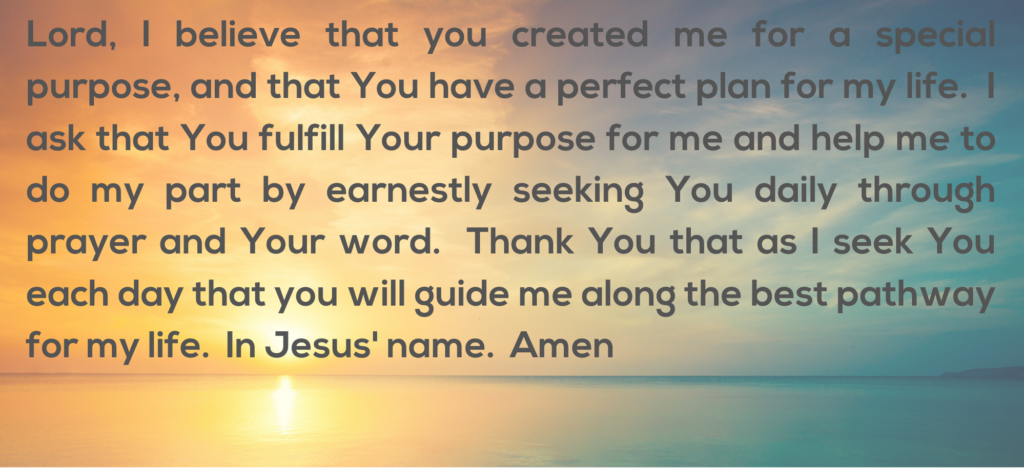 If the text on the picture is difficult to read: "Lord, I believe that you created me for a special purpose, and that You have a perfect plan for my life. I ask that You fulfill Your purpose for me and help me to do my part by earnestly seeking You daily through prayer and Your word. Thank You that as I seek You each day that you will guide me along the best pathway for my life. In Jesus' name. Amen"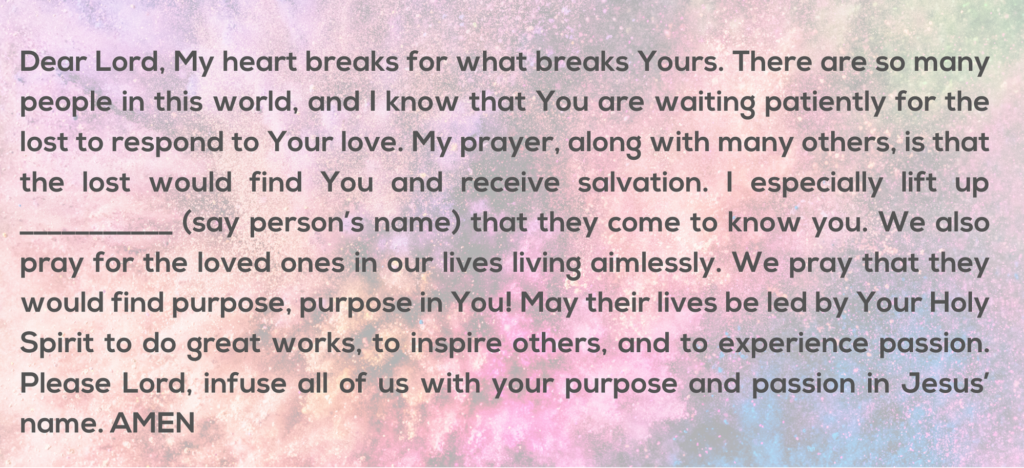 If the text on the picture is difficult to read: "Dear Lord, My heart breaks for what breaks Yours. There are so many people in this world, and I know that You are waiting patiently for the lost to respond to Your love. My prayer, along with many others, is that the lost would find You and receive salvation. I especially lift up ___________ (say person's name) that they come to know you. We also pray for the loved ones in our lives living aimlessly. We pray that they would find purpose, purpose in You! May their lives be led by Your Holy Spirit to do great works, to inspire others, and to experience passion. Please Lord, infuse all of us with your purpose and passion in Jesus' name. AMEN"
Share here anything that God has been speaking to you about during your prayer time.
Thank you for joining us for this month's 24hr Prayer event. Many thanks to Florence and her small group for putting together this month's content and leading us through our time of prayer.
Don't forget to join the Worship Night as we close out our 24hrs of prayer
Click the image below for the event details