As a Church we want to ensure that you are 'well' in all areas of your life not just your spiritual or physical life, but also in your mental health and wellbeing.
We are not a health care service, or advice giver, so if you believe you are experiencing significant changes in your mental health please do seek professional guidance (see the signposting section at the end of the page). However, we do want to care for you and your family pastorally in these difficult times and are aware that the strain of isolation is affecting many people and their wellbeing.
Please check out the resources below and make use of whatever is helpful. If you are in need of practical care, spiritual support or would just like to speak with or pray with someone then never hesitate to contact us at info@thebeaconchurch.com.

Wellbeing Webinar
The Wellbeing webinar took place over Zoom on May 13th 2020. It includes a short talk from Ruth Rice of Renew Wellbeing and then Q&A with a panel.
That discomfort you're feeling is grief
This useful article from Harvard Business Review aligns much of the feelings many are experiencing to those of grief. You can read the article here, for some this will be a helpful rationale behind how they are feeling, but for others anxiety and issues of wellbeing might be a greater issue in which case read on for further support.
Tackling Anxiety by Patrick Reagan
This talk is taken from the recent 'Spring Harvest at Home' series and is the first of three talks on wellbeing by Patrick Reagan. It's a good watch, aimed at those who are already Christians, but accessible to all.
Great Books For Kids
Everybody Worries is a fantastic picture book for kids that talks about how everyone worries and is written specifically with the current pandemic in mind. This is a brilliant resource for all under 12s. It's an ebook that is free to read so just click on the link to read it online.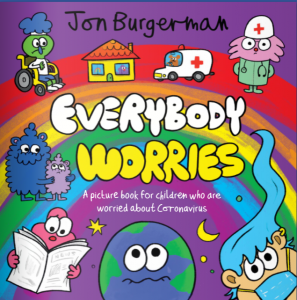 My hero is you is a pdf book that is for slightly older children and can be found here. This book is written for children, but does cover topics such as death, social distancing and self care so is worth a read on your own before you share it with your children.
The Children's Guide to Coronavirus has been created by the Children's Commissioner, it is a presentation available as a pdf that explains what coronavirus is, what we need to do to say safe, what to do about our worries and some activity ideas to keep busy with. The activities section in particular has some great links to audio books, DJing apps etc!
Renew Wellbeing
Ruth Rice is Director of Renew Wellbeing a Christian Charity that aims to help churches promote wellbeing in their communities. She will be part of the teamhosting the Wellbeing Webinar. Ruth is herself a Baptist Minister.
Ruth is providing daily dose reflections and prayers on Vimeo, these are very short and provide a thought for the day that are especially helpful if you are looking to boost your personal wellbeing, or the wellbeing of those around you.
One of Ruth's recent reflections is below, but you can also follow her channel here where she will be posting reflections each day.
Mental Health Reflections
The Church of England has produced 13 daily mental health reflections which take a Biblical reflection each day and then include 'have a go habits' each day to boost wellbeing. This resource has been specifically adapted for the current pandemic and is partially written by Ruth Rice from Renew Wellbeing (see above). Click on the picture below to open up the pdf file.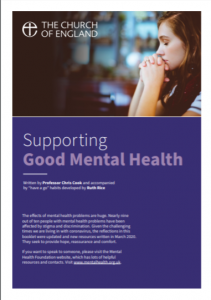 Where to go for more information?
If you feel additional support you may find one of the links below useful. However, if you have noticed significant changes in your wellbeing and mental health please do contact your GP or 111. If you feel your concerns are more pastoral then please don't hesitate to contact one of our pastors by emailing info@thebeaconchurch.com.
Every Mind Matters – An NHS page with helpful tips on practical ways to boost wellbeing whilst in lockdown.
Parenting through Coronavirus – A great list of resources for parents from the Institute of Health Visitors. This includes everything from tips to help your crying baby, how to keep the kids busy and pregnancy, to more serious issues such as domestic abuse and mental health support for parents.
Government Guidance – This is the official Government page on managing wellbeing, it contains similar content to the NHS 'every mind matters' page, but also has specific recommendations for different people groups such those with dementia, or the elderly.
Age Specific Guidance – There are lots of mental health organisations that are set up to support different age groups, phoneline details are below but there is Speak Up Space for under 18s, as well as Childline, and ideas of how to support wellbeing in young people can be found at here. The Mix for under 25s and Silverline for the over 55s
Just for Men – An organisation specifically designed to support men is CALM, the campaign against living miserably. They have a phone line 0800 58 58 58 and links to their web chat can be found on their website.
Christian Counselling – The Association of Christian Counsellors has a Crisis support service that is offering free counselling to anyone in the NHS or other key workers as well as grief support to those who have been bereaved at this time.
Daily Hope – This is a free phoneline set up by the Church of England offering comforting hymns, prayers and reflections. Phone 0800 804 8044 (24hrs, Daily).
Elefriends – A supportive online community set up by Mind. This is a place to come, share and feel supported.
Emerge – This is a Stafford based charity that works on behalf of the NHS with victims of sexual abuse and their families.
Useful Contact Phone Numbers For Emotional Support:
Anxiety UK: 03444 775 774 (weekdays, 9:30am -5:30pm)
Breast feeding network – 0300 100 0212 (9:30am-9:30pm)
Childline: 0800 11 11 (24hrs, Daily)
MIND infoline: 0300 123 3393 Text:86463 (9am-6pm Weekdays)
No Panic : 0844 967 4848 (10am-10pm)
OCD Action: 0845 390 6232 (9:30am – 5pm, Weekdays)
Rethink Mental Illness: 0300 5000 927 (9:30am – 4pm, weekdays)
Samaritans: 116 123 – 24 hours
SANEline: 0300 304 7000 (4:30pm – 10:30pm, Daily)
Speak Up Space – Access their instant messaging service here. (Mon & Weds 5-8pm, Tues & Sun 8-11pm, Thurs 4-9pm)
Silverline: 0800 4 70 80 90 (24hrs, Daily)
The Association for Postnatal Illness: 0808 196 1776 (10am-2pm)
The Mix: Phone (0808 808 49 94) & Webchat (4-11pm, Daily) and text service 24hrs everyday. Text THEMIX to 85258
Youth Suicide Prevention: 0800 068 41 41
Local to Staffordshire:
Staffordshire Mental Health Helpline: 0808 800 2234 (7pm-2am Weekdays, 2pm-2am Weekends)
Access team for Mental Health Services (South Staffordshire) : 0300 555 5001
Everyone Health: This is a Staffordshire based health support organisation that normal offers exercise, eating and smoking support, but right now is also offering isolation support to the over 50s.